Posted by Eric Baker on 17th Jan 2018
EasySpheres recently took on a new quality directive to improve sphere lot number traceability for our customers. What seems like common sense in following best practices for the electronic manufacturing industry has provided EasySpheres a clear advantage in our ability to respond to downstream process related issues related to our solder spheres. Each vial or solder jar container is labeled with Sphere SKU, Quantity, Alloy, Diameter, Date of Expiry, Lot Code and QR Lot Code (SEE BELOW). With each product that we ship, we include a Manufacturers Certificate of Conformance that contains each these values as well. The Certificate of Conformance identifies the manufacturing standard, sphere brightness, alloy purity limits versus actual, size variance distribution and sphericity distribution for each size | alloy sphere. Additionally, we maintain order documentation of each sphere we ship with your order specifics including the same information provided below.
IPC Agrees: Space Applications Electronic Hardware Addendum to J-STD-001D Requirements for Soldered Electrical and Electronic Assemblies requires
Limited shelf life items shall be stored and controlled in accordance with material manufacturers' recommendations or in accordance with the manufacturer's documented procedures for controlling shelf life and shelf life extensions that may be permitted. Limited shelf life items shall be traceable by

lot number

,

date code

and

expiration date

.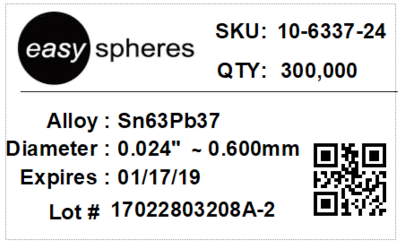 So, whats in a label? Well as you can see... actually quite a lot. This "best practices" approach to serving our customers provides, product traceability, customer confidence and is just plain good business.